Please go to the News and Press pages for more up to date News on the Campaign and New Evidence
---
TGB Update 4 September 2007
Thames Gateway Bridge Post Inquiry Correspondence is now available to view at
http://www.persona.uk.com/thamesgateway/news.htm
---
TGB Update Letter 15 August 2007
A letter was received today from Persona Associates who will provide admin support to the Inspectors at the reopened Inquiry.
At present no date has been set for the Inquiry although it is not expected to reopen until 2008. TfL are expected to submit their additional evidence after which others will be in a position to offer further comment. A further Pre Inquiry Meeting will be called in due course and it will be at this meeting that the Inspector will set a timetable for submitting evidence.
Copies of "post inquiry correspondence" will be published on the persona website at www.persona.uk.com
Inquiries can be made to the Inquiry Manager/Programme Officer at
PERSONA ASSOCIATES
West Point
Springfield Road
Horsham
West Sussex
RH12 2PD
TEL: 01403 217799
FAX: 01403 217790
E-MAIL: grahamgroom@personaassociates.co.uk
DIRECT LINE: 01403 219899
---
THAMES GATEWAY BRIDGE INQUIRY TO REOPEN

It has been announced today (26 July 2007) that the Secretary of State will reopen the TGB Inquiry.
For a copy of the decision letter and Inspector's report go to
http://www.communities.gov.uk/index.asp?id=1512063

More info/press releases will be published here shortly when we have digested the full report
(nearly 600 pages!!)
---
ACTION GROUP AGAINST THE BRIDGE (AGAB)
ST. MICHAEL'S RESIDENTS' ASSOCIATION (SMRA)
OBJECTOR NUMBER 2052
42 Berkeley Avenue
Bexleyheath
Kent
DA7 4UA
5 February 2007
Planning Central Caseworks Division
Zone 3/J/1
Eland House
Bressenden Place
London SW1E 5DU
Dear Mr Gregory
PROPOSED THAMES GATEWAY BRIDGE (TGB) – NEW EVIDENCE
BEXLEY'S AIR QUALITY MANAGEMENT AREA (AQMA) DECISION
Following my letter dated 21 November 2006 I attach a copy of the minutes of the Public Cabinet meeting held on 12 December 2006 where it was resolved that an order be made designating the whole of the London Borough of Bexley as an Air Quality Management Area. Bexley's legal department are in the process of preparing the order.
The report that went to the cabinet can be seen at Bexley Council's Website Click here
go to the agenda of the public cabinet meeting of the 12 December.
Please acknowledge receipt of this e-mail either by post or by e-mail on jacquiwise@tiscali.co.uk.
Yours sincerely
Mrs Jacqui Wise
Mr Steve Wise
Mr Terry Grant
---
Trove WebServer Print
Library: 06_Decisions
Folder: Cabinet Meeting Papers
Document: 12.12.06 Minutes
Print Date: 05/02/2007 11:27
User name: ANONYMOUS
PUBLIC CABINET
12 December 2006
(Internal ref: x_121206_pcm_m00)
At a meeting of the PUBLIC CABINET held at BEXLEY CIVIC OFFICES, BROADWAY, BEXLEYHEATH on TUESDAY 12 DECEMBER 2006 at 7.30pm
Present:
Councillor Clement (Leader of the Council);
Councillors Gareth Bacon, Campbell, Peter Catterall, Craske, Sharon Massey, Teresa O'Neill, Perrior, Waters and Windle.
Also Present:
Councillors Mrs Bailey, Brockwell, David Cammish, Clewes, Davey, Alan Downing, Francis, Gillespie, David Hurt, Marriner, Margaret O'Neill, Scott, Seymour and Mrs Slaughter.
Trove WebServer Print
Library: 06_Decisions
Folder: Cabinet Meeting Papers
Document: 12.12.06 Minutes
Print Date: 05/02/2007 11:29
User name: ANONYMOUS
48.

LOCAL AIR QUALITY MANAGEMENT: LONDON BOROUGH OF BEXLEY AIR QUALITY MANAGEMENT VARIATION ORDER 2006
(Agenda Item 7)
The Cabinet considered a report, which set out the conclusions from the second round detailed assessment of local air quality, together with details of the consultation responses to the detailed assessment and to proposals to declare the whole of the London Borough of Bexley as an Air Quality Management Area.
The following motion was moved and seconded and carried without dissent:
RESOLVED - That an order be made designating the whole of the London Borough of Bexley as an Air Quality Management Area.
---
22nd December 2006
New Evidence Documents Please click here to View.
Also Register your objection click here
---
21/12/2006

PR3553 - For Immediate Release

COUNCIL LEADER CALLS FOR BRIDGE INQUIRY TO BE RECONVENED

The Leader of Bexley Council, Cllr Ian Clement, has called for the re-opening of the public inquiry into the Thames Gateway Bridge in the light of Government plans to increase tolls for the Dartford crossings.

"The proposed 50% increase in the Dartford tolls could significantly affect traffic levels on the Thames Gateway Bridge and its environmental impact, especially in Bexley," explains Cllr Clement. "That's why I have written to Ruth Kelly, the Secretary of State for Communities and Local Government, to ask that extra work is done to assess the impact of the tolls before she
makes a decision on the proposal."

"I have asked that the transport modelling is recalculated, the impact of the tolls re-assessed and for people to be given the opportunity to resubmit their evidence."

The differential tolls proposed for the Thames Gateway Bridge were the most significant of the mechanisms put forward at the original inquiry to control traffic using the bridge. A discount was proposed for local residents, along with a relatively high toll designed to limit the volume of non-local traffic.

The effect of the tolls was so important that Transport for London drastically reduced the size of the discount area during the inquiry to reduce projected traffic levels on the local road network in Bexley.

"It's clear from the original inquiry that relative tolls levels are a key factor in influencing the environmental impact of the bridge," says Cllr Clement. "The Secretary of State needs to announce that the inquiry will be reconvened soon, or there is a risk that a decision will be made which has potentially disastrous consequences for people and businesses in the north of the borough."

ENDS

Notes for editors

A copy of Cllr Clement's letter to the Secretary of State for Communities
and Local Government is circulated with this release.

Please contact: John Ferry on 020 8294 6222
john.ferry@bexley.gov.uk
---
Click here to Download a copy of this letter from the Leader of Bexley Council to Ruth Kelly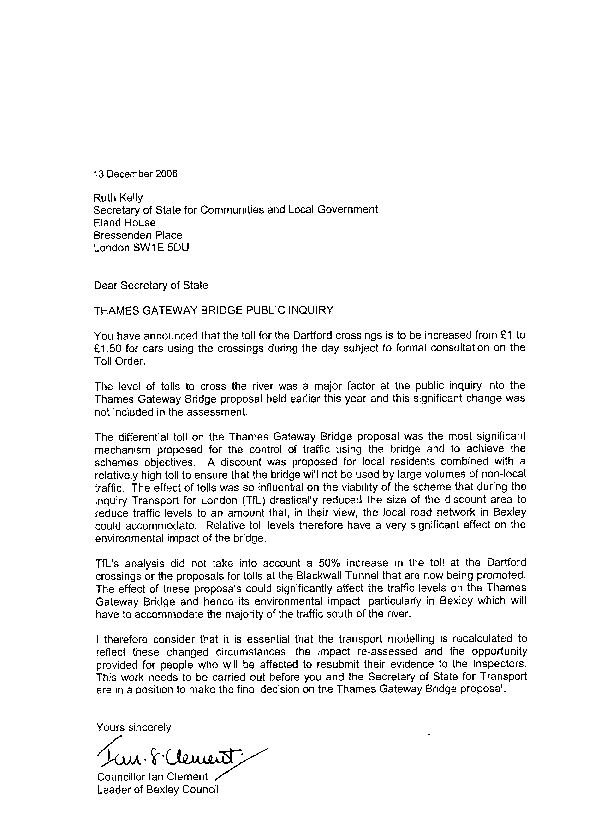 ---
Proposed Thames Gateway Bridge
Update Letter 23 November 2006
The Planning Inspectorate at Bristol has confirmed that the Inspector's Report and recommendation on the Inquiry into the proposed Thames Gateway Bridge was sent to the decision branch in London on Friday 17 November 2006.
---
Proposed Thames Gateway Bridge - Update Letter November 2006
The Inspector's report and recommendation on the proposed Thames Gateway Bridge Inquiry has now been submitted to the Planning Inspectorate at Bristol and is expected to be forwarded to the Case Officer in London shortly. The Inspector's report will not be in the public domain until a final decision notice has been issued by the Secretary of State for Transport, which is expected sometime in Spring 2007.
Any new evidence that has been submitted either by objectors or supporters of the proposed scheme since the close of the Inquiry in May will be read and if considered new, relevant and of material importance other parties who submitted evidence to the Inquiry may be asked to comment on it. In certain circumstances the Inquiry could be re-opened.
New evidence can continue to be submitted to the Case Officer at the following address but this must cover issues that are new and relevant and have not already been discussed at the Inquiry.
Planning Central Caseworks Division
Zone 3/J/1
Eland House
Bressenden Place
London SW1E 5DU
---
Click here to See AGAB/SMRA OPENING STATEMENT 19 April 2006
Proposed Thames Gateway Bridge Inquiry
and
Click here to see AGAB/SMRA PROPOSED THAMES GATEWAY BRIDGE
CLOSING STATEMENT 26 APRIL 2006
---
Click here to see TfL's Closing Statement Wednesday 3rd May 2006 at 10am
---
TFL SAY TRAFFIC MODELLING "NOT RELIABLE"
New evidence was formally presented to the Inquiry by TfL on 20 December
2005. This evidence and daily transcripts are available electronically on
the Inquiry website at

http://www.persona.uk.com/thamesgateway/tfl_docs_electronically.htm
AGAB and SMRA will be publishing a press release regarding this shortly.
---
The Public Inquiry will recommence

21 February 2006 10am Charlton Athletic Football Club
Evening session of the Inquiry at Bexleyheath.

Monday 13th March 2006 7pm Marriott Hotel, Bexleyheath (Applegarth Suite).


---
For a List of all Objectors Submitted Documentation please Click here
---
We are desperately seeking New Help with our Campaign, both Time and Money
---
Transport for London have proposed the construction of a six lane bridge to cross the River Thames between Becton and Thamesmead.
Many Residents are concerned with the effects of a bridge of such dimensions bringing a massive amount of traffic to a highly residential area.
We have set up a message board for residents and Local Businesses to express their concerns about these proposals and this site will keep you up to date on topics concerning these proposals.
You also have an opportunity to download an Objectors's application form to either send your own objections or appoint someone to represent your views at the Public Enquiry which will take place on 7th June 2005. You may DOWNLOAD the Objectors Form here and you may DOWNLOAD a 'Say No to the Bridge' poster from here.
The Action Group Against the Bridge (A.G.A.B.) and the St. Michaels Residents' Association (SMRA) have submitted Objections under Rule 6 and you may view their statement of case by clicking here or you DOWNLOAD a .PDF version here.